Asteroskopeio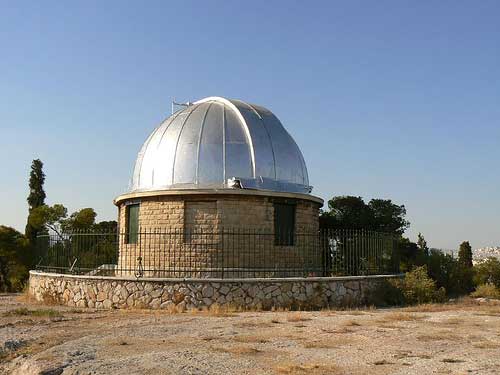 The observatory, or Asteroskopeio, was built on the hill of the nymphs with a donation of Georgios Sinas on a design by Theofilos Hansen and it is inaugurated on the 26th of June 1842, the day of the sun's eclipse. The architecture liked it so much that he wrote the sign "Servare Intaminatum" on the building, meaning to keep it intact. Today's Seismological Institute is situated at the same location.
What is left from the small older church of Agia Marina dating back to the dark ages (8th-9th century) is saved in the big church of Agia Marina which is situated to the northwest of the Asteroskopeio.
Very close, in a panoramic location, the trails of the altar of Zeus Ipsistos were discovered. A bit lower, there is a place called Kylistra or Tsouliastra where Athenian women who had problems getting pregnant came to slide and roll.