The new Acropolis Museum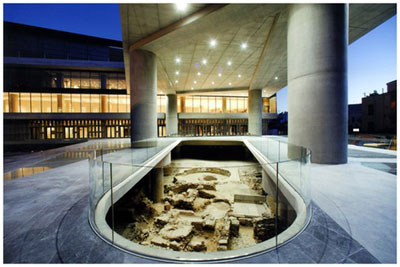 The new Acropolis Museum will open to the public, on a restricted basis, on Sunday 21 June 2009. On Sunday 21, Monday 22 and Tuesday 23 June 2009, visitors can only enter the museum with an e-ticket – a ticket pre purchased through the Museum's website. The Museum website at www.theacropolismuseum.gr is expected to operate from 15 June 2009.
On Sunday 21, Monday 22 and Tuesday 23 June 2009, other than e-ticketing, there will be no other tickets available for entry. No tickets will be sold at the Museum.
From Wednesday 24 June 2009, visitors will be able to gain admission to the Museum with the purchase of a ticket at the Museum, or the pre purchase of a ticket on the Museum website.
From 21 June 2009 to 31 December 2009 the cost of entry for all visitors is 1 euro.
The Museum will open 8.00 a.m. to 8.00 p.m. daily, except for Mondays.
Accessibility
The main entrance of the Acropolis Museum is at the Dionysiou Areopagitou Street. Visitors arriving on tour buses enter from the Hatzichristou Street entrance and make their way to the main entrance (on the Dionysiou Areopagitou side of the Museum).
All public areas of the Acropolis Museum are wheelchair accessible. Wheelchairs are available free of charge and are located in the checkroom in the main entrance of the Museum. Motorized wheelchairs are permitted and wheelchair-accessible restrooms are located on all floors of the Museum. A parking space is available for minibus groups with mobility difficulties at the Mitseon Street entrance. Elevators are located at all levels of the Museum.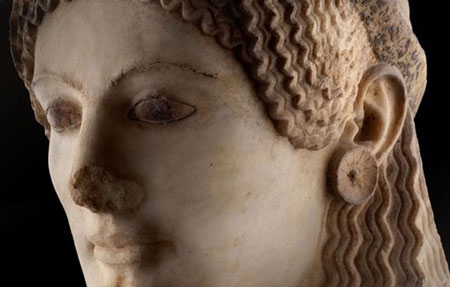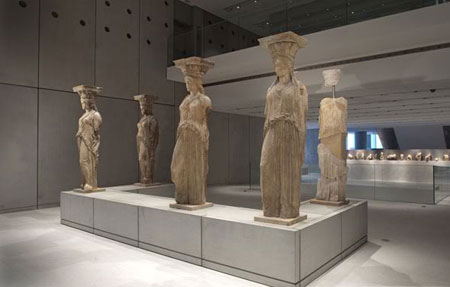 Cloakroom
The cloakroom is located on the ground floor of the Museum, directly across from the Museum entrance. All bags, backpacks and packages must be deposited in the cloakroom. For safety of exhibits, bags may not be carried on one's back. To avoid lengthy waits in line, such items should not be brought into the Museum.
Cell Phones
The use of cell/mobile phones is only permitted in the Museum lobby, Restaurant and Café areas.
Further Information
The Information Desk is located on the ground floor, at the Ticket Desk.
Tel.: +30 210 9000901
Email: info@theacropolismuseum.gr
Website: www.theacropolismuseum.gr
Address: Acropolis Museum, 15 Dionysiou Areopagitou Street, Athens 11742
Click to view map