Greek Islands Ancient Coins
"Andros Coin-Bronze Coin"
Andros, an island of rich vegetation and abundant water, is the largest of the Cyclades. Its position opposite the coast of south Euboea, on the sea route linking mainland Greece with the other islands and the coast of Asia Minor, was a contributing factor in the development of colonies in Thrace and on Thassos.
Traces of human activity have been located going back to the Mycenaean period. Three settlements have been excavated on the west side of the island: Zagora, Ipsili, and Palaiopoli, the site of the city of Andros in the historical period.
The patron god of the island was Dionysos, in whose sanctuary there was a spring that, according to Pausanias, spontaneously ran with wine every year, during the celebration of the festival of the Theodaisia.
The Archaic silver issue with a depiction of an amphora was formerly attributed to Andros. Modern scholars, however, believe that this issue should be assigned to the mint of Karthaia. What is striking is the lack of an Archaic issue by Andros, which was a rich island. Judging from other cases, however, it seems that coins were not indispensable to the life of the Arhaic city, especially in view of the lack of raw material from which they could be produced. Strabo states that Andros and Tenos came the influence of neighbouring Euboea, which struck coins at a fairly early date. In 308 BC, Ptolemy liberated Andros from its Macedonian garrison.
To the following years should probably be assigned the silver issues depicting the head of Dionysos wearing an ivy wreath, and Artemis the huntress. The goddess, wearing a short chiton , stands holding a spear in her left hand and pouring a libation with her roght.
The reverses of the bronze coins depict a thyrsos with ribbons tied to it, an amphora or a kantharos, and Apollo kitharodos, while the head of Dionysos is a recurring type on the obverse.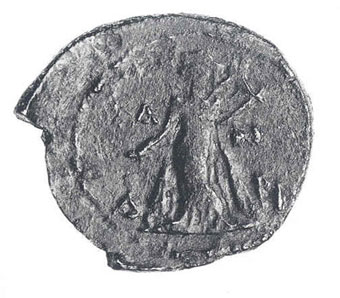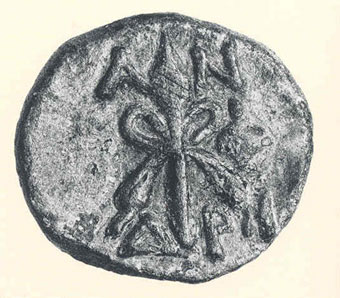 Aigiale Bronze coin 3nd-2nd century BC. O. Head of Zeus or Asklepios Arkesine Bronze coin 3nd-2nd century BC. O. Head of Dionysos.