Lesvos Thermal Springs

Eftalou
Eftalou's Springs are one of the very few springs in Greece where joint baths between men and women are allowed. They're at the beach and they consist of a basin roofed with a cupola and a two-storeyed building with four basins and a small reception, waiting and relaxation hall.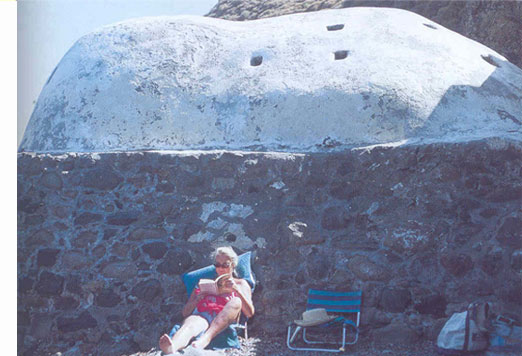 This area is one of the most touristy places in Lesvos. The spring of Eftalou is the most radioactive spring in Lesvos. The water's pure, about 114o F. It takes about one and a half hour or two for the basin to be filled.
How will you get there?
Eftalou is about 3,5 kilometers of asphalt road away from Mythimna.
Where will you stay?
In Mythimna. There are many hotels, rooms to let and camps. In Eftalou there are very few hotels and they're quite expensive.
So, here it goes.
The basins are built and old. Three of them can fit one or two people and the fourth one fits four to six. The windows have a view to the sea and the coast of Asia Minor across. If you ask at the administration office, they'll give you binoculars to look more closely. Every bath lasts no more than 15 minutes.

Panagia I Kryfti
The first thing you stumble upon once you climb down to the little church of Panagia I Kryfti ("The Hidden Mother Virgin") is a stone building with three rooms where bats reside. There's also five little rooms that used to be used to function as vestries. In these rooms there are stairs that lead to a coast.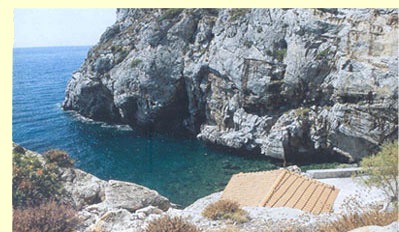 At the edge of it there's a crack, an entrance to a small cave (duck and you'll be able to get in). Inside there's a small lake with hot water.
How will you get there?
Many people use boats that stop quite a few meters away and get to the land swimming or using a smaller boat. Getting there by land includes traveling 57 kilometers from Mytilini Town. There's a dirt road from Melinda, the nearest settlement
Where will you stay?
In Melinda or Plomari, where you will find rooms to let and several taverns.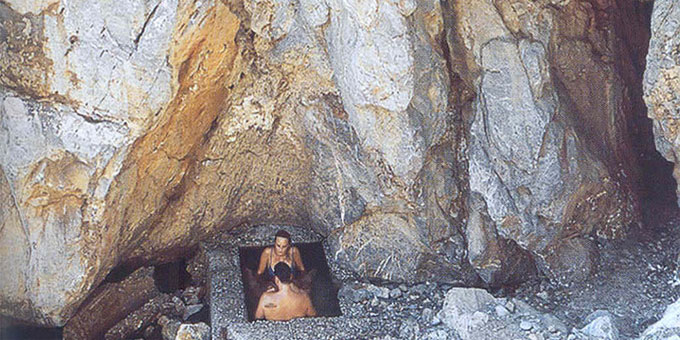 So, here it goes.
So, here it goes. The basin is in a very good condition and the water's temperature is simply ideal, about 97o F. One or two people fit inside. The water of the sea is hot at some points as well.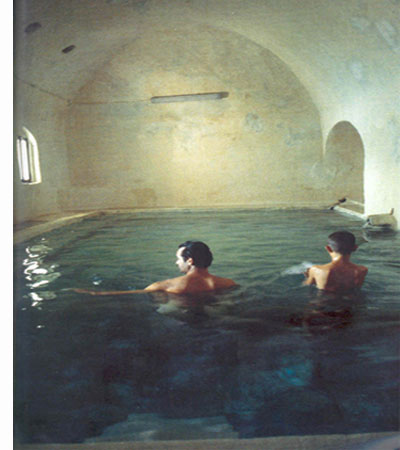 Loutra Geras (Gera Springs)
The Gera Springs are the most popular springs of Lesvos nowadays, with more than 10000 tickets per year. They're open all year long. The water's temperature is about 104o F; it flows in a well next to the facilities of the springs and supplies two basins.
How will you get there?
You can get there even on foot. The springs are 10 kilometers west of Mytilini town.
So, here it goes.
Definitely dive in the waters. The Gera Springs are of the best in Greece. The waters pours into two basins (one for men, one for women). The temperature is ideal.
Loutropoli Thermis
This is where Artemis (Diana) was worshipped. The healing center and the temple of the goddess were at the Horafa area, next to the water healing facilities. Diana was considered the protector of the healing springs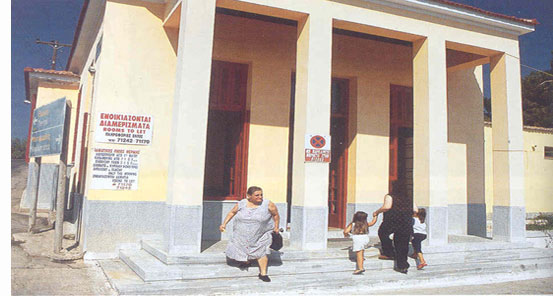 Today, more than 1500 inhabitants of Thermi employ themselves in business that has to do with the springs: hotels, rooms to let, taverns. About 8000 people visit the springs every year; most of them are elderly people. In the facilities there are eleven individual basins.
How will you get there?
The Thermi Springs are above the onshore road of Mytlini-Madamados, about 12 kilometers from Mytilini town.
Where will you stay?
In a hotel or a room to let. There are about 900 beds in a 1 kilometer range from the springs. You can also stay in Skala Mystegnon or Panagiouda (recommended).
So, here it goes.
The basins are respectable. The water is clean, odorless, bright and salty. You're only allowed in the water for 15 minutes. The springs are open from June to October.