Greek quality products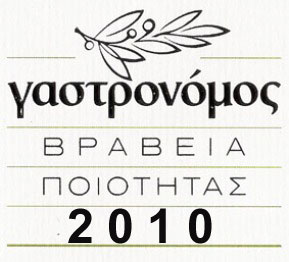 A special event was organized on June 7th at the Greek Evgenidion Establishment, by the food related magazine "Gastronomos".
The purpose of that event was the awarding of greek people who produce or trade high quality food species. The staff of the magazine decided to pay a honour to these people for their hard working and their respect to traditional and naturals products.
The moto of this event was that despite the current economical crisis, people who are doing a high quality job will keep receiving a positive response from the public.
Let's introduce you to the people who occupy with high quality food production, awarded by Gastronomos:
American Agricultural School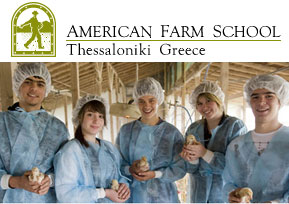 Founded in 1904 by the American missionary John Henry House, in Thessaloniki, it has been operating for 106 years. It is a non-profit institution that combines theory with practice in agricultural activities. It offers students eight specialization fields and encourages them to take part in various agricultural activities within its establishments, daily. The students produce milk and eggs that are sold in some of the supermarkets in Thessaloniki and Athens. None of the 5.500 graduated students is jobless while most of them go to the front as far as their field of occupation is concerned..
The American Agricultural School of Thessaloniki aims at creating well educated agriculturers with a modern view of this specific field and this has lead to its have been awarded by the Academy of Athens twice.
Address: 12, M. Adipa Str, Thessaloniki, tel: +30 2310 492 700
Papadimitriou Company - Balsamic Vinegar from Kalamata

The Company has been processing and trading products made of the black dried raisins of Corinth, since 1930. It is the producer of the Balsamic vinegar from Kalamata as well as of the Balsamon mustard.
The vinegar is made of 2,500 tons of black dried raisins per year and the secret of its special flavor is the fact that it is made straight of strong must with simultaneous acid and alcoholic fermentation and then it is matured in oak barrels. It is naturally sweet and no sugar, coloring or conservatives are added in it.
Papadimitriou Company also produces other types of vinegar such as dark colored, white, conventional and biologic while trading the black dried raisin for bulk sale.
The Balsamon mustard have been internationally awarded and it has been enriched with original Mediterranean ingredients since 2004.
The purpose of this Company is to keep exporting these products in foreign countries, preserving its high quality standards despite the economical crisis.
You can find the products of Papadimitriou Company at the super markets.
Address: Thouria, Messinia Perfecture, tel: +30 27210 32960
Pappas Bros
A great cheese factory
Dimitris and Konstandinos Pappas have created a modern cheese factory far different from the sheepfolds in which their grandfather used to make cheese, in Tzoumerka village, Ioannina. At least, he inherited them the love for cheese making.
They took over their father's business and managed to create a bigger, modern and well equipped unit, being the first to have applied the HACCP system. They produce various cheese types like gruyere, parmesan (kefalotiri), kefalograviera, anthotiro and dry whey cheese (myzithra). Moreover, they are experts in making a unique cheese type named "Ziros" made of sheep milk and being hard and intense in flavor. They use spring milk only from some selected producers which fulfill the standards required to make Ziros. We shoul dalso mention the "Anostrou Kassiou" cheese time which is tasteful too as it contains spices like pepper.
The Afoi Bros cheese factory has its own store in Ioannina while exporting its products to Belgium, France and Holland.
You can find their products in selected store in Ioannina, Athens and Thessaloniki.
Address: 30 Panepistimiou Str, Ioannina, tel: +30 26510 67355 and Filippiada city, Ioannina, tel: +30 26830 24013
Bio culture by Favianos Rouggeris
Favianos Rouggeris has been using the method of bio culture for six years. In the beginning, he was pretty unsure if he could succeed in that peculiar field but nowadays he is an already awarded bio culturer who struggles to produce natural, healthy and tasty goods. His wife, Giouli, is supporting him in culturing 50 acres of land growing vegetables and greens.
His parents own a 10 acres artichoke field where they culture an old local artichoke variety.
Favianos Rouggeris sells his products in outdoor markets, in several locations of Athens:
Monday: Kifisia: end of Ch. Trikoupi str, (his wife) N. Smirni: outside Iosifoglio Institution
Tuesday: P. Psichiko: in front of Arsakio, (his wife) N. Herakleio: El. Venizelou str
Wednsday: Piraeus: Pigada Square
Thursday: Gerakas: Ethn. Andistaseos Str
Friday: Kaisiariani: behind Niar Ist
Saturday: Voula: Xenofondos Str, (his wife) Kipseli: Dim. Agora
Working hours:
Daily:14:30-17:30 (Nov-Apr) and 16:30-19:30 (May-Oct)
Saturday: 9:00-16:00
Address: Marathonas and Tinos island
Statir
Statir Company produces a unique type of olive oil with excellent properties and high quality standards. The olive breed, the climate, the earth, the appropriate culturing techniques and the fact that the olive collection is carried out in late September (much earlier than others) are the factors that makes the oil "Protolado" special.
The owner of Statir, Dimitris Portolos has devoted his attempts to the production of an extra virgin olive oil and apart from "Protolado" that the Company trades "Viotiki" (an excellent virgin olive oil) and some more traditional products such as olives, bottled vine leaves and traditional greek "spoon sweets", exporting 20% of this production.
You can find them at selected delicatessen shops and super markets, in Greece.
Address: 45, Michalakopoulou Str, tel: +30 210 7258394, 210 7240446
Adamandina House
It is small workshop located in Lakonia prefecture. The owners set up this business based on family recipes for pasta and pastries. Using high quality ingredients like pure olive oil, fresh juices, fresh eggs and fresh milk they produce a number of biological and conventional products with special taste. They sell them in 400 stores all over Greece (delicatessen stores and super markets).
Address: Glikovrisi, Lakonia, tel: +30 27530 91300
Ecozoi (Ecolife)
Ecozoi is selling biological products in Corfu town. Run by a group of young people who care about a natural way of living, it has attracted a lot of people who buy goods like traditional pasta, rice, locally produced honey, herbs, cheese etc. One can also find environment friendly cleaning materials and cosmetics at Ecozoi.
Address: 104, Theotoki Str, Corfu, tel: +30 26610 49294
Gruyere Askifou
Based on an old, family recipe Manousos Tsitsiridis produces the unique Gruyere Askifou. It is an at least 3 months matured cheese without any conservatives made with special care and high quality standards, in Chania, Crete. You can also find it in Athens, Mykonos and Santorini, at specific stores.
Address: 23, Xr. Smirnis, Argyroupoli, tel: +30 210 9914047
Olive oil "Irini"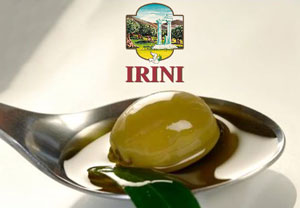 Even though Irini is a new coming olive oil, its excellence has been recognized internationally. It has been awarded several times in the last 5 years, including the Biol award in Italy, Mario Solinas award in Spain and the Beyond Extra Virgin discrimination in California. The majority of its production is exported in Denmark and Sweden while being less know in Greece!
You can find Irini olive oil at Evelyn store, Molivos, Lesvos, tel: +30 22530 72197
Nikos Pagiavlias - Bio culture
Nikos Pagiavlas has been culturing biological vegetables for 16 years in Chania, Crete. According to him, Nature can be friendly and helpful as far as culturing is concerned, providing you give it an opportunity to do so. Nature has helped him to grow biological staff that he sells in two shops in Chania town.
Address: 2, Dimitraki Str, tel: +30 28210 28783 and 86, Parodos Kon. Karamanli, tel +30 28210 36446
Koukaki Farm

Koukaki Farm is located in Kilkis (north Greece) and it processes 9.000 tons of milk annually. Despite the fact that the demand is bigger, the owner refused to raise this quantity of production because it would mean loss of quality. A percentage of 20% of this milk is taken by animals grown by the owner's brother and the rest by selected producers. As Kostas and Olga Koukaki try to ensure high quality for their products, they provide the breeders with breeding produced by themselves after bio culture.
Farma Koukaki produces full and low fat milk, choco milk, yoghourt, rice milk cream, vanilla cream etc. You can find them at selected delicatessen stores and at Carrefour supermarkets, in 1,500 stores all over Greece.
Address: Kato Apostoloi, Kilkis, +30 23410 94455
Wine Producers Association of the Northern Greece Vineyard

The first wine producers association in Greece has a reach activity in our country as it organizes the unique International Wine Competition held in Greece. Having created a wine route for Greek vine yards and wine production areas of north Greece, it can make a travelling proposal with educational and really interesting parameters.
Composed of 37 wine companies, it sells its products to the super markets of Greece.
Address: Helexpo 154 Egnatia St., Thessaloniki, tel: +30 2310 281 617