Archipelagos Restaurant
Archipelagos Restaurant is situated in Fira, the capital of Santorini island, right on the cliffs of the caldera in a location with a wonderful view. It was built in 1860, it used to be one of the oldest captain's houses and it was restored according to traditional architecture.
It offers excellent Greek cuisine and dishes cooked with the finest quality ingredients, a great variety of Greek wines and professional service that satisfies even the most demanding clients.
Lunch or dinner are served in a romantic environment with beautiful porches which overview the volcano, the Aegean sea and the magical colors of the famous sunset of Santorini
The inside of the restaurant is decorated with authentic works of art, sculptures and paintings.
Whether you choose the porch or the uniquely decorated inside lounge, Archipelagos is the ideal place to have you wedding reception or any kind of celebration since up to 60 people can be hosted on the premises.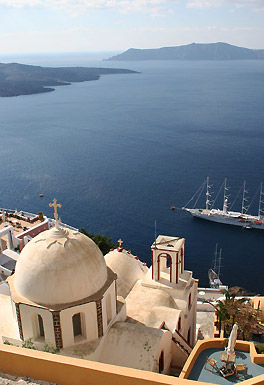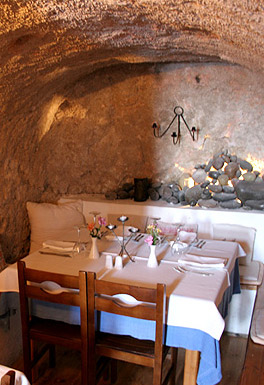 Menu
The menu includes a variety of main courses, salads, opening courses, soups, seafood and meat dishes, pasta, risotto and tasty desserts.
The wine list includes a variety of red, dry white, rose and sweet wines and other drinks are served as well.
Fira Santorini - 84700 Cyclades Islands
Tel: +30 22860 24509, 23673
Fax: +30 22860 23673
----------------------------------------------------
Winter Tel.: +30 210 4001134
Winter Fax: +30 210 4001134