Vassilis Tsitsanis - Greek Music Rempetika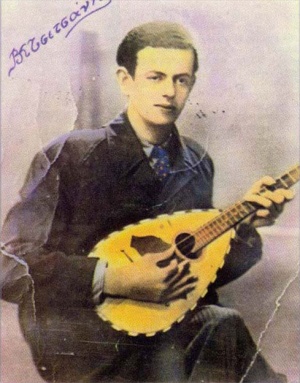 Vassilis Tsitsanis (January 18, 1915 - January 18, 1984) was a Greek singer and songwriter. He became one of the leading composers and singers of rebetiko music, which was banned in Greece during its early years, and on the later laika style.
His best-known songs include:
Synnefiasmeni Kyriaki (Cloudy Sunday)
Eimaste alania (We are Tramps)
To Vapori apo tin Persia (The Boat from Persia, about a hashish-laden boat that was captured by the police in Corinth harbor)
O Sakaflias
Ta leromena ta aplita (The Dirty Laundry)
Tsitsanis was born in Trikala on January 18, 1915. From a young age, Tsitsanis was interested in music and learnt to play the mandolin, violin and the bouzouki which were the mainstay of so many of his songs. In 1936 he left for Athens to study Law, and by 1937, had made his first musical recording.
During the German occupation of Greece, Tsitsanis lived in Thessaloniki. There he wrote many of his best songs that were later recorded after the end of the World War II.
In 1946, Tsitsanis returned to Athens and began recording many of his own compositions that made famous many of the singers that worked with him, such as Sotiria Bellou, Marika Ninou and Prodromos Tsaousakis.
Tsitsanis died in London on January 18, 1984; the day he was born sixty-nine years prior. He was mourned across Greece, where his music is still enjoyed to this day and he is regarded as a legend of rebetiko music.