Maria Callas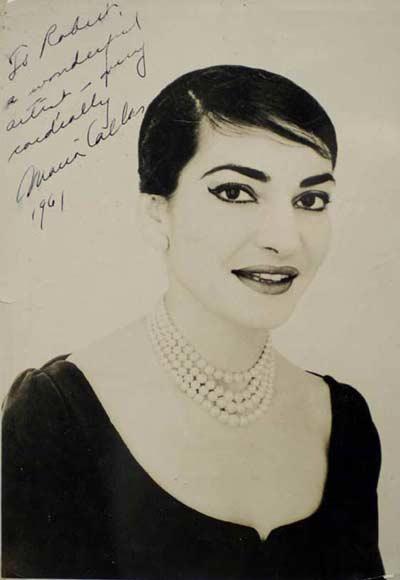 Maria Callas was born in New York in December 2nd 1923 from Greek parents named George Kalogeropoulos and Evangelia or Litsa Dimitriadou and though she was christened Maria Anna Sofia Cecilia Kalogeropoulou her father shortened the family surname first to Kalos and subsequently to Callas which was more manageable. The Greek dramatic coloratura soprano and perhaps the best-known opera singer of the post-World War II period died in September 16th 1977 but her remarkable musical and dramatic talents led to her being hailed La Divina.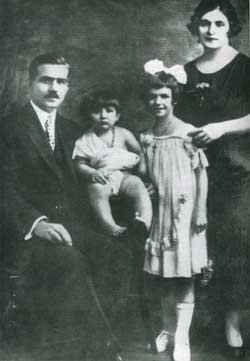 Callas´ parents moved to America in July 1923 and settled in the Astoria neighborhood in the borough of Queens. At the time they had two children a girl and a boy who died later on from meningitis. The couple wasn&t getting along from the beginning and after the death of their son things became worse. When Evangelia found out that small Maria, the third child had a nice voice she was making her sing at the age of three for practice and this is a fact that Callas mentioned later on as a drawback that made her hate singing. Her mother liked the oldest daughter more because she mistakenly thought that Maria was a boy that she wanted very much and she was overbearing. George was unhappy with his wife favoring their elder daughter as well as the pressure put upon young Mary to sing and perform. The marriage continued to deteriorate and in 1937 Evangelia decided to return to Athens with her two daughters. Callas always had problems with her mother and as she confessed in interviews of the time she would never forgive her for taking away her childhood. Her mother also published a book with the title My daughter, Maria Callas and at some point they stopped talking to each other.
Callas received her musical education in Athens. Her mother tried to enroll her at the prestigious Athens Conservatoire but she wasn&t accepted due to lack of theoretic prerequisites (solfege). Then she started having lessons with Maria Trivella at the younger Greek National Conservatoire who remembers Maria as fanatical, uncompromising, dedicated to her studies heart and soul. Her progress was phenomenal. She studied five or six hours a day and within six months, she was singing the most difficult arias in the international opera repertoire with the utmost musicality. Later she studied with Elvira de Hidalgo who described her as a phenomenon. She would go to the conservatoire at ten in the morning and leave with the last pupil for ten hours a day.
After several appearances as a student, Callas began appearing in secondary roles at the Greek National Opera. De Hidalgo was instrumental in securing roles for her, allowing Callas to earn a small salary, which would help her and her family get through the difficult war years.
In 1946 upon her arrival in Verona for La Gioconda Callas met Giovanni Battista Meneghini, an older, wealthy industrialist, who began courting her. They got married in 1949, and he assumed control of her career until 1959, when the marriage dissolved. It was Meneghini's love and support that gave Callas the time needed to establish herself in Italy and throughout the prime of her career, she went by the name Maria Meneghini Callas.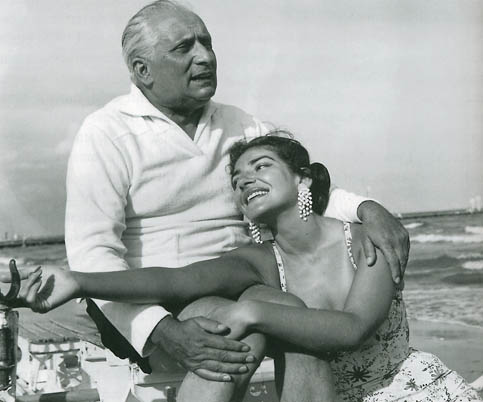 In the early years of her career, Callas was a heavy and full-figured woman that Meneghini and others considered her beautiful. Then she decided to lose some weight in order to feel better on stage so she was transformed into a astonishing, striking woman. Various rumors spread regarding her weight loss method prompting Callas to state that she lost the weight by eating a sensible low-calorie diet of mainly salads and chicken. Some believe that the loss of body mass made it more difficult for her to support her voice, triggering the vocal strain that became apparent later in the decade while others believed the weight loss effected a newfound softness and femininity in her voice, as well as a greater confidence as a person and performer.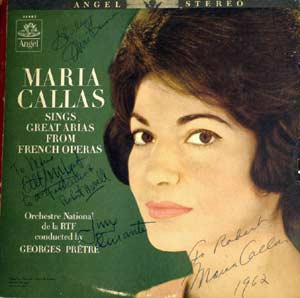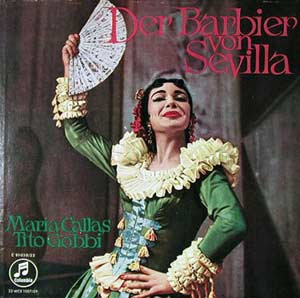 Several singers have opined that the heavy roles undertaken in her early years damaged Callas& voice. The mezzo-soprano Giulietta Simionato, Callas& close friend and frequent colleague, stated that she told Callas that she felt that the early heavy roles led to a weakness in the diaphragm and subsequent difficulty in controlling the upper register.
Louise Caselotti, who worked with Callas prior to her Italian debut, felt that it was not the heavy roles that hurt Callas' voice, but the lighter ones. Several singers have suggested that the heavy use of Callas' chest voice led to stridency and unsteadiness with the high notes. In his book, Callas' husband Meneghini wrote that Callas suffered an unusually early onset of menopause, which could have affected her voice.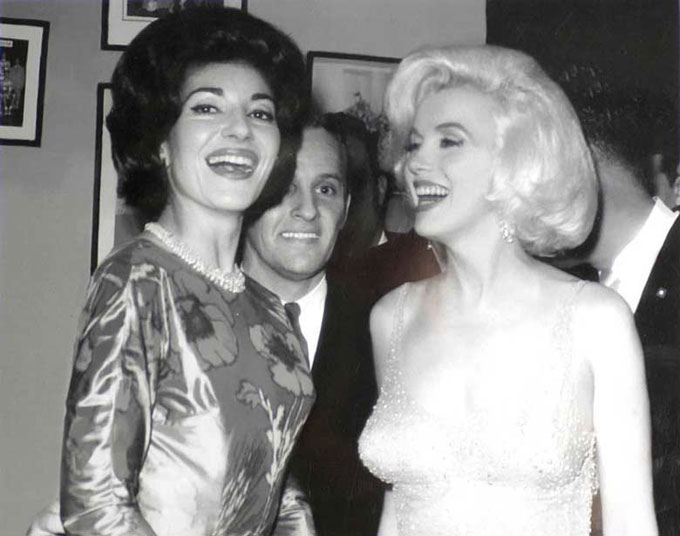 While there is no filmed footage of Callas during her heavy era, photos from those years show a very upright posture with the shoulders relaxed and held back. All videos of Callas are from the period after her weight loss. This continual change in posture has been cited as visual proof of a progressive loss of breath support.
In 1957, while still married to husband Giovanni Battista Meneghini, Callas was introduced to Greek shipping magnate Aristotle Onassis at a party given in her honor by Elsa Maxwell after a performance in Donizetti's Anna Bolena. The affair that followed received much publicity in the popular press, and in November 1959, Callas left her husband. Michael Scott asserts that Onassis was not why Callas largely abandoned her career, but that he offered her a way out of a career that was made increasingly difficult by scandals and by vocal resources that were diminishing at an alarming rate. According to one of her biographers, Callas and Onassis had a child, a boy, who died hours after he was born on March 30, 1960. The relationship ended nine years later in 1968, when Onassis left Callas in favor of Jacqueline Kennedy. However, the Onassis family's private secretary, Kiki, writes in her memoir that even while Aristotle was with Jackie, he frequently met up with Maria in Paris.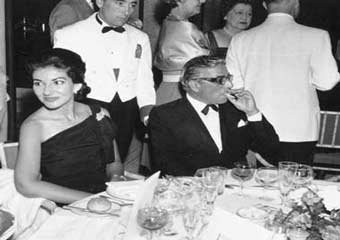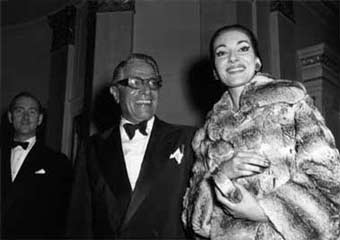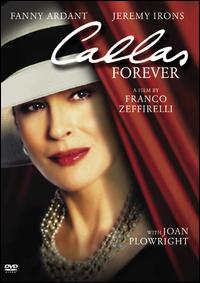 Callas spent her last years living largely in isolation in Paris and died on September 16, 1977, of a heart attack, at the age of 53. A funerary liturgy was held at Agios Stephanos Greek Orthodox Cathedral on rue Georges-Bizet, Paris, on September 20, 1977, and her ashes were interred at the Père Lachaise Cemetery. After being stolen and later recovered, they were scattered over the Aegean Sea, off the coast of Greece, according to her supposed wish.
In late 2004, director Franco Zeffirelli made what many consider a bizarre claim that Callas may have been murdered by her confidant — Greek pianist Vasso Devetzi—in order to gain control of Callas' estate. A more likely explanation is that Callas' death was due to heart failure brought on by unintentional overuse of sleeping pills.
In 2002, Zeffirelli produced and directed a film in Callas' memory. Callas Forever was a highly fictionalized motion picture in which Callas was played by Fanny Ardant. It depicted the last months of Callas' life, when she was seduced into the making of a movie of Carmen, lip-synching to her 1964 recording of that opera.
In 2007, Callas was posthumously awarded the Grammy Lifetime Achievement Award.