Adolo - A premium taste ouzo label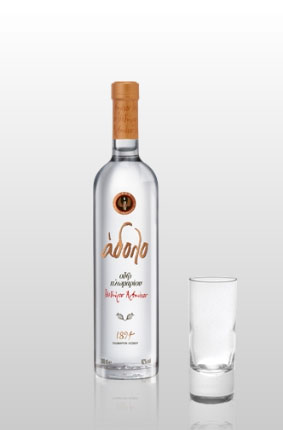 "Adolo" is the new proposal for this summer. A pleasant smell of anise, mastic and fennel derives from this premium category ouzo, offering an innovative recipe that may change everything taken for granted until now, as far as ouzo flavor is concerned. It is a crystal clear liquid that brings a light sense of its smelling ingredients to taster's mouth letting people enjoy a different drink of high quality.
According to the myth, the history of ouzo began in late 19th century. Isidoros Arvanitis, from Plomari village, Lesvos island, experimented on various spirits using a lot of different herbs in order to create the "ouzo". This myth reaches its peak nowadays, again at Plomari village, where the premium ouzo has been created. Adolo is a pure, clear and original drink.
More over, Isidoros Arvanitis used to name as "Adolo" the best quality ouzo he could produce, which he used to save just for his friends. He would not sell it because he preferred to share this unique quality ouzo with his fellows.
What makes Adolo really special is the fact that it is subject to a three stages distillation so that keep just the best part of it, "the core". It is produced in small quantities and it is bottled in an elegant bottle perfectly harmonized with its elegant flavoring properties.
This is a drink for people who dare new choices and can be different. A drink for those who seak for something special, unique and attractive. You can taste it in modern bars, at a glamorous party or at a gourmet restaurant.
Adolo ouzo has been created for those who think that tasting good flavors is a daily luxury.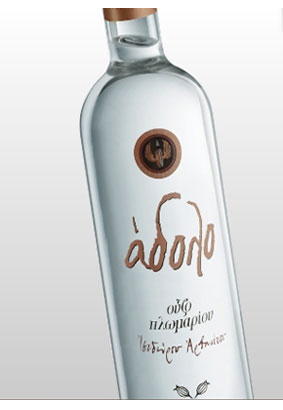 PROPERTIES
Ouzo produced in Plomari, Isidoros Arvanitis
3-stage distillation
Distilled in a handmade copper pot still
42% alcohol
TASTE PROPERTIES
View: crystal clear, limpid
Smell: light, elegant cinnamon, fennel and anise flavors
Taste: semi-dry with a vivid smell. Light smells of anise, fennel, mastic and cinnamon. It leaves a pleasant oily taste in the end. Long taste duration with a sweet ending.
MIXED WITH WATER
View: thick emulsion with blue lightings
Smell: intense chamomile and fennel flavor
Taste: Smooth with an intense fennel smell