Ouzo Mezedes
Here are some recipes for mezedes that can be divinely combined with ouzo.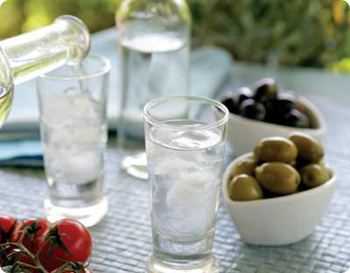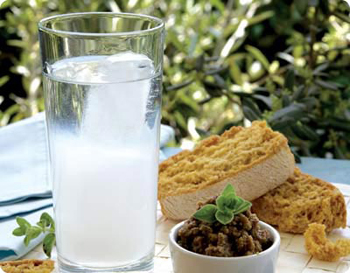 Ouzo is never served alone, but always is accompanied by mezedes—small, varied plates of food.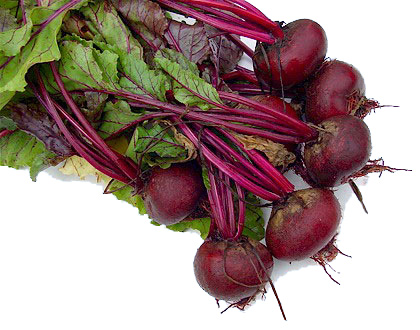 Beetroot-balls
Ingredients:
2 coffee cups flour (farina)
1 egg
2 tablespoons melted butter
1 coffee cup milk
2 coffee cups grated beetroots
2 coffee cups grated feta cheese
2 tablespoons well chopped parsley
Olive oil
Salt - Pepper
In a bowl, mix flour together with salt, pepper, milk, egg and butter. Work into a fine mixture. Add the beetroots, feta cheese, parsley and mix thoroughly. Heat olive oil in a frying pan; use a tablespoon to take equal quantities from the mixture and fry the beetroot-balls (3 minutes each side).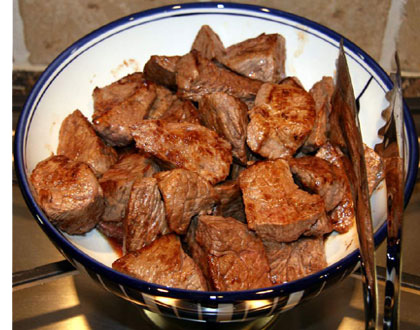 Sautéed Veal Testicles
Ingredients:
2 veal testicles
2 tablespoons olive oil
1 coffee cup vinegar
1 coffee cup flour
1 tablespoon oregano
1 tablespoon thyme
2 cloves garlic, peeled, minced
1 fresh, green onion cut in rings
Juice of 1 lemon
Salt - Pepper
First of all, when you buy the veal testicles ask the butcher to cut them in half and remove the outer membrane. Soak the lamb testicles in vinegar for a while, rinse in cold water, strain well and cut them into big square pieces. Season with salt and pepper; add oregano, thyme and flour them slightly. Heat olive oil in a frying pan; sauté the minced garlic and onion rings; add the veal and fry it hot oil until well browned on all sides. Sprinkle with lemon juice and serve on a small platter.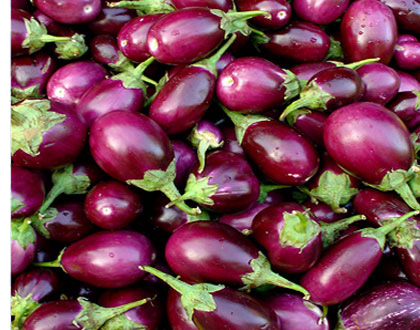 Eggplant Salad
Ingredients:
2 eggplants (large - long type)
1 fresh green onion
1 small red pepper (Florinis), well chopped
2 tablespoons parsley, well chopped
2 cloves garlic, crushed, peeled, finely minced
3 tablespoons olive oil
Salt - Pepper
Wash and strain the eggplants. Arrange them in a baking pan and bake over medium heat for 25 minutes. Remove from heat and leave to cool. Skin, chop them and leave to strain for 10 minutes. Scoop out the eggplant flesh into a salad bowl, combine with the rest of the ingredients, mix thoroughly and serve.
Stuffed Red Peppers With Tuna Fish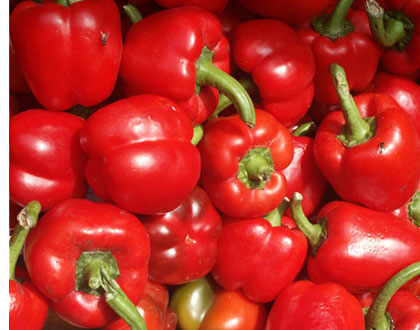 Ingredients:
4 red peppers (sweet)
4 fresh, green onions, well chopped
400 gr. tuna (in water)
200 gr. white mushrooms, washed, peeled, well chopped
1 shot white wine
4 tablespoons heavy cream
Olive oil
1 tablespoon butter
300 gr. cheddar cheese, grated
Salt - Pepper
Heat olive oil in a frying pan. Sauté the onions and mushrooms. Add the tuna fish and cook for 5 minutes. Add wine, salt, pepper and mix well. Add butter and cook until all of their liquid has evaporated. Cut the peppers in half and remove the seeds. Stuff the peppers with the mixture and sprinkle with cheddar cheese. Arrange them in a baking pan and bake at 180o C until the cheese melts.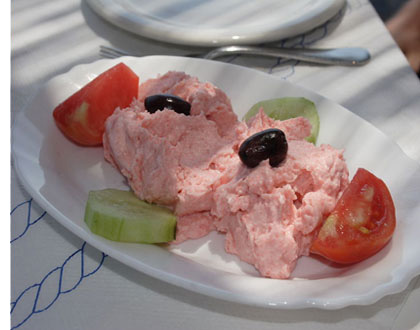 Fish Roe Salad
Ingredients:
200 gr. fish roe
500 gr. potatoes
Juice of 2 lemons
1 fresh, green onion, well chopped
1 tablespoon vinegar
½ coffee cup olive oil
Skin, wash, boil and mash the potatoes. Into a mixing bowl, beat the fish roe together with olive oil. Add gradually the mashed potatoes, onion, vinegar and lemon juice and continue beating until the mixture is creamy and soft. Garnish with crispy bread and serve.
Cheese Patties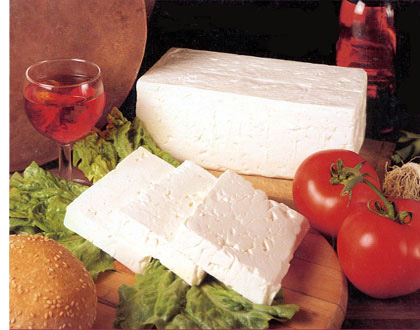 Ingredients:
4 pastry sheets
1 coffee cup myzithra cheese, grated
1 coffee cup feta cheese, grated
1 egg
6 tablespoons butter (Kerkyras)
4 mint leaves, well chopped
In a mixing bowl, mix all the ingredients thoroughly (except from the pastry sheets and butter). Melt the butter. Spread one pastry sheet and brush it with butter. Cut it into long pieces, place one tablespoon of the mixture on each piece and fold into small triangles. Continue with the rest of the sheets. Arrange the patties in a greased baking pan and brush them with butter. Preheat the oven and bake at 180o C until golden brown.
Aegean Stuffed Vine Leaves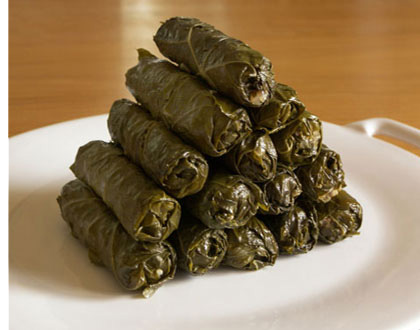 Ingredients:
30 vine leaves
1 coffee cup raw rice
1 medium onion
1 teacup olive oil
3 tablespoons anise, well chopped
1 clove garlic, peeled, minced
1 ½ coffee cup hot water
1 lemon
Salt - Pepper
Soak the rice in water for 5 minutes. Strain well and mix it with the onion, garlic, anise, salt and pepper. Rinse the vine leaves in cold water; if the vine leaves are fresh, blanch them for 3 minutes. Drain and refresh in cold water. Put a teaspoon of the stuffing near the bottom of each vine leaf. Fold the bottom and 2 sides to cover the filling and roll tightly toward the tip of the leaf, leaving room for the rice to expand by 2-3 times as it cooks. Arrange stuffed vine leaves in a casserole, close one next to the other and cover completely with a plate (so they do not open up during cooking). Add hot water and simmer for 20-30 minutes, adding some more hot water if necessary. Remove from heat, leave to cool and place on a platter. Garnish with lemon slices or lemon fillets and serve.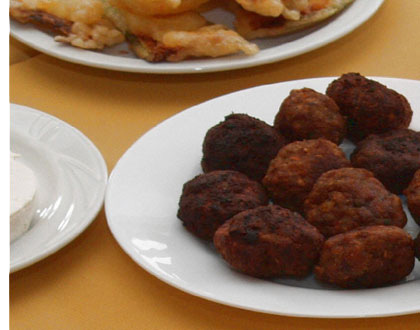 Meatballs With Ouzo
Ingredients:
250 gr. lamb minced meat
250 gr. veal minced meat
2 slices stale bread
1 tablespoon fresh mint, well chopped
1 shot ouzo
2 medium onions, minced
½ coffee cup flour
1 coffee cup oil for frying
Salt - Pepper
Soak the slices of bread in water and strain well. In a basin, mix the crumb together with the minced meats, onions, mint, salt and pepper. Work the mixture very well and leave to cool in the fridge for 30 minutes. Form small meatballs, flour them and fry in hot oil until well browned. Serve warm.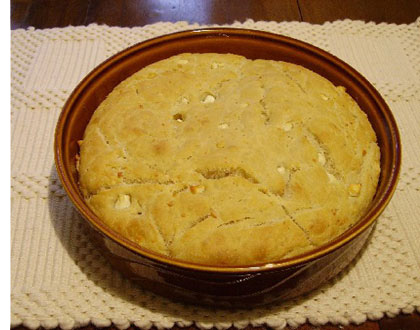 Fried Bread with Feta Cheese
Ingredients:
500 gr. flour (farina)
250 gr. feta cheese
Yeast powder (1 small pack)
1 shot olive oil
1 glass lukewarm water
Baking powder
Salt - Pepper
Seed oil for frying
Sieve the flour in a bowl. Add a little baking powder and salt. Dilute the yeast powder in a glass of lukewarm water and add to the flour. Blend the flour (second scale), add olive oil and some water (if needed). Work the dough very well. Leave to fill and thicken for 30 minutes. Meanwhile, grate the feta cheese. Separate the dough into five equal pieces. Use a rolling pin to form small round pieces, 20-22 cm diameter each, add the cheese in the middle and fold them tightly. Heat seed oil in a frying pan, fry until well browned and remove from heat. Leave to cool, cut and serve.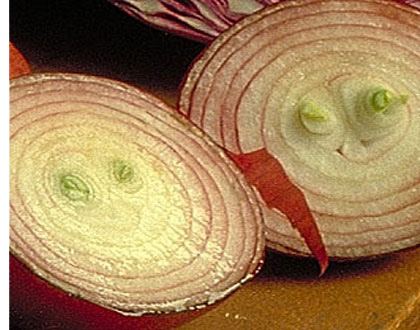 Onion Bites
Ingredients:
1 bunch fresh green onions
4 eggs
4 tablespoons vinegar
¾ coffee cup olive oil
Salt - Pepper
Wash the onions very well and cut them roughly. Heat olive oil in a deep frying pan; sauté the onions without browning them. Remove the olive oil from the frying pan with a spoon and add vinegar. In a bowl, beat the eggs and add to the onions together with salt and pepper. Mix well and serve hot.
Note:
You can give the onions a sausage shape by wrapping in a grease wrapping paper. Leave to cool for a while, unwrap carefully and cut into big slices.