Greek Table Olives
Konservolia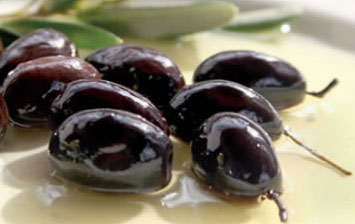 Konservolia is the most famous Greek variety of table olives. It makes up about 80% of table olive production in Greece. This variety is grown in central Greece and is known by the name of the areas producing it, such as Amfissa, Agrinion, Volos, Atalanti, Agios Konstantinos, Stylida, etc. The fruits are of medium to large size and they are round to oval. They are preserved in brine.
Nychati of Kalamata
Nychati of Kalamata is one of the most important Greek table olive varieties. It's a black olive that is used for the preparation of slit olives preserved in brine and vinegar. It is produced in the south and south-western region of the Peloponnese and particularly in Messinia and Laconia as well as in central Greece
Olives of Chalkidiki
In the last few years, it has become a very important variety of table olives. It comes from the peninsula of Chalkidiki, close to Mount Athos. Its fruit is very large, which is why it's known as "gaidourolia" (donkey olive).

Megaritiki
This is a dual-purpose variety, used for both oil production and eating. It is cultivated in the region of Attica. Its fruit is small and used mainly for the preparation of black dry-salted olives or of green cracked olives.

Kothreiki
This is a dual-purpose variety, produced in the Greek Mainland. Its fruit is similar in color and shape to the fruit of the konservolia variety.
HOW TO MAKE YOUR OWN TABLE OLIVES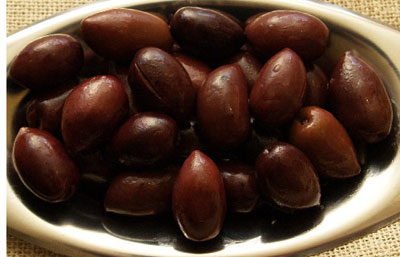 If you can find black olives of the Kalamata variety, try this traditional recipe.These olive fruits are large and are gathered when they are deep black but before they are wrinkled. Select firm and unbruised olives. Incise the olives lengthwise in two places with a sharp knife without touching their stone. Place them into a large clay or plastic vase with enough water to cover them for about 12 days and change the water daily until they are no longer bitter. Prepare brine with 1 liter water and 100 grams salt for every kilo of olives, put the sweetened olives in the brine and leave them for two days. Then drain them and soak the vinegar where you have added a little water (4 parts of vinegar to 1 part of water) for another two days. Finally drain them again and store in glass or clay jars covered with olive oil.
How to make cracked olives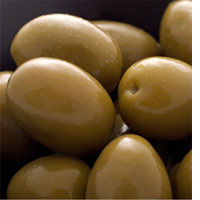 These olives are harvested as early as October, while they are still green, unripe. Crack the olives open carefully with a wooden object (usually a hammer) trying not to crack the stone, only the flesh. Soak them in water for 10 days. Change the water daily until they lose their bitterness. When they become sweet, store them in brine prepared with 1 liter of lukewarm water and 100 grams of salt for every kilo of olives. Add ¾ cup of lemon juice and various herbs, such as oregano, coriander, fennel, slices of lemon, hot pepper, etc, according to taste. Cover with a layer of olive oil, 1cm thick.
Cracked olives should be consumed within a short period of time because they may bleach or get mouldy with the passing of time.
Serve sprinkled with coriander, chopped garlic, slices of lemon and olive oil mixed with lemon juice.
Scented Olives with Rosemary
Whether your own or bought, olives can be scented, depending on your preferences; with fennel, coriander, oregano, thyme, rosemary, bay leaves, hot pepper, garlic, lemon, etc.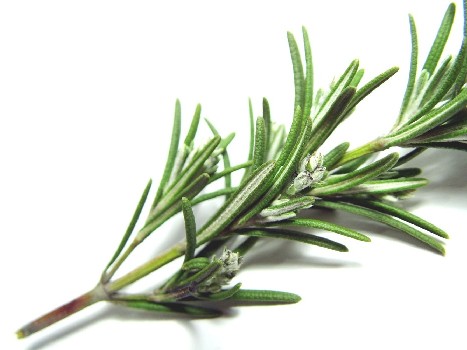 What you will need
2 cups olives
1 clove garlic
1 quartered lemon
1 tbsp rosemary
2 tbsps vinegar
1 cup olive oil
Mix olives with garlic, hot peppers, lemon and rosemary in a bowl. Beat olive oil with vinegar. Pour over the olives and make sure they are covered. These can be kept in a jar or the fridge for quite a while.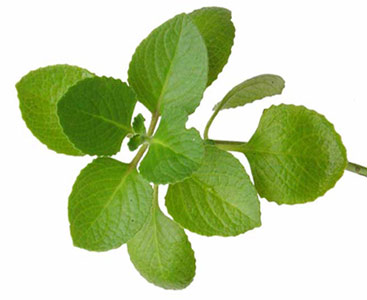 Olive Paste with Oregano
What you will need
1 cup pitted black olives
2 cloves garlic (green core removed)
1 tbsp oregano
2 tbsps lemon juice
4 tbsps olive oil
Put the ingredients in a food processor to make the paste. Empty into a bowl and store the fridge for a few days. Olive paste can be used at least 2 hours after being made as it needs time for the flavors to infuse
Olive Paste with Fennel and Mint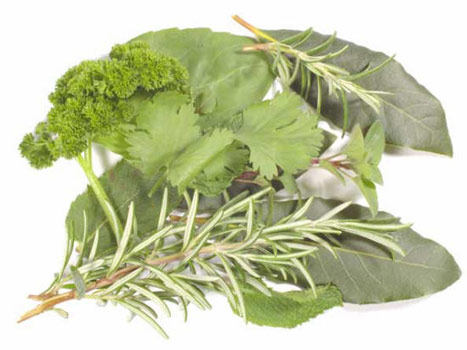 What you will need
1 cup pitted black olives
2 tbsps finely chopped fennel or 1 tbsp fennel seeds, roasted and ground
1 clove garlic
2 tbsps fresh or dried mint
1 hot pepper
1 tbsp lemon or fresh orange juice
1 tbsp good quality vinegar
4 tbsps olive oil
Put in the ingredients in a blender to make a paste. Keep it in the fridge but let it stand for 2-3 hours before using it. It can be stored for a few days.