Types of Gum Mastic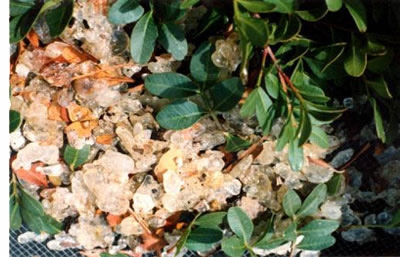 Pitta
The 'foam' of gum mastic which occurs when many drops become one. It has rather an oval shape, like a small plaque. The biggest part is about 7cm2, the smallest 3-3 ½ cm2.
Fliskari of Kantilera
Gum mastic parts, smaller than Pitta, but cleaner - hung on the trunk of the tree. Their collection is always done by timitiri.
Daktilidopetra
Smaller than fliskari with the shape of a precious stone.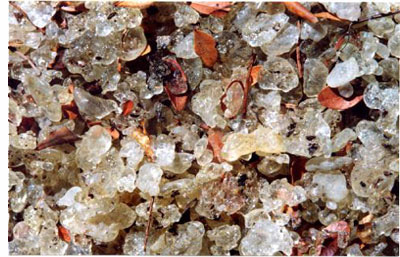 Tear
Gum mastic smaller than daktilidopetra and much smaller than fliskari, hung on the cutting 'like a tear'.
Rolling or Small
Very small parts, drops from the cuttings which become circular.
Anapinada or Neropinada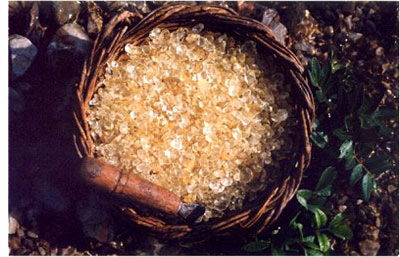 Low quality gum mastic which was damp or containing soil.
Volarida
Gum mastic which has stuck and become like a ball.
Powder
Tiny bits like powder which are the remains of the cleaning process.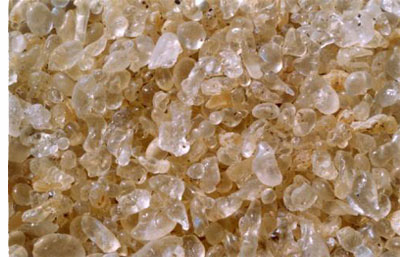 Clean Gum Mastic
Today's categories of the clean gum mastic are 1. pitta, 2. large tears and 3. small tears.
Most of the elaboration and classification jobs are done by women. The rest of the subproducts' remnants (soil, leaves and powder of gum mastic) is given to the producer's wife as a 'gift'. After the gum mastic collection period, the roving sellers travel to gum mastic villages broadcasting their products in exchange for powder.