Greece Buses - Ktel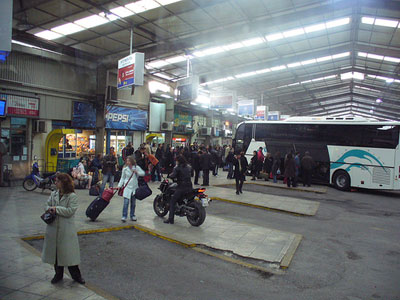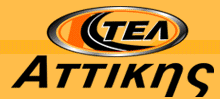 There are bus lines in Attica that can lead you in every part of Greece. The KTEL of Attica is in operation since 1955. Today, it includes all the bus lines of the prefecture of Attica along with the line leading to Thessaloniki. There are also KTEL bus stations in Volos, Larissa, Argolida and other locations which can lead you everywhere.
Greece Buses Passenger Service
KTEL Attikis sa transfers about 8 million passengers per year. It is worth noticing that the last two years the company's fleet is more modern than ever while the new technological installations in relation to the tracking systems and route recorders of the buses that it has acquired, added to the excellent conditions offered inside the buses, make travelling by bus not only safe but comfortable as well.
Bus Stations - Location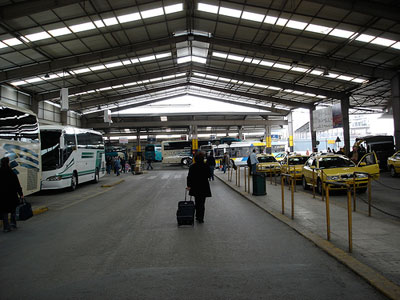 There are two central KTEL bus stations in Athens. The first one is in Kifisos from where the buses leave towards northern Greece, Peloponnese and Epirus while from the second one in Kato Patisia buses head towards Thessaly and central Greece.
Bus Station - Kifisos KTEL
Address: 100, Kifisou street, Kifisos
Telephone no: (+30) 210 5150025, 5148856, 5154800, 5129403
To get to Kifisos KTEL station you can take a taxi or a blue bus.
Bus Station - Liosion KTEL
Address: 260, Liosion street Kato Patisia
Telephone no: (+30) 210 8317109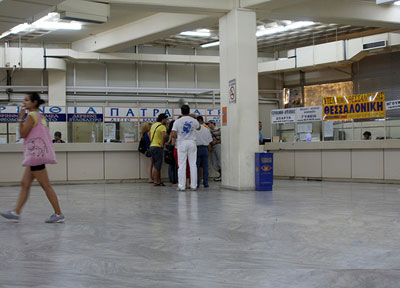 To get to Liosion KTEL station you can take the train and stop at Kato Patisia station.
Apart from Kifisos station buses leading to Thessaloniki along with buses to coastal areas of Attica leave from:
Pedion Areos
Address: 19 Ioulianou Street, Plateia Aigyptou
Bus Ticket Prices
Prices vary depending on the destination. To have an idea of how much tickets cost I will give you some examples only for a few destinations but as you will see on the maps below there are dozens of destinations.
| Departure | Arrival | Price in euros | Duration in minutes |
| --- | --- | --- | --- |
| Athens | Thessaloniki | 34 | 420 |
| Athens | Lavrio | 4.20 | 110 |
| Athens | Agia Marina ferry boat | 4.50 | 120 |
| Athens | Sounio (by the beach) | 5.40 | 120 |
Buses to Turkey and Albania from Thessaloniki
Through KTEL THESSALONIKIS S.A. you will have the opportunity to go abroad. There are two daily itineraries for Istanbul, Turkey, one at 10 am and one at 10 pm. The departure point is 17, Irini's street in the center of Thessaloniki. The tickets are sold at the central offices and the ticket price is 35 euros.
There are also buses for Albania (Tirana) which depart from the central bus station MACEDONIA but for more information you will have to ask at the station.
Bus Seat Reservation
You don't have to pre-book a seat. If you are at the bus station 30 minutes before bus departure you will find a ticket if you haven't bought one ahead of time.
Maps
Here you will have the opportunity to take a look at all the itineraries of the KTEL of Attica, meaning all the bus routes that the KTEL buses follow inside the prefecture of Attica.
Bus Itineraries - North Attica
As you will see here, these are the itineraries that the KTEL buses follow in northern Attica from Athens-Lamia national Road up to Avlida, passing by numerous locations such as Kapandriti, Kalamos, Markopoulo, Paralia and Oropos.
Bus Itineraries - South Attica
Here are the routes followed by the KTEL buses of south Attica. As you will notice this is also the line leading to the airport of Athens, Eleftherios Venizelos, and numerous other locations such as Sounio (where you will find the temple of Poseidon), Anavisos (with the long, sandy beach), Lavrio (port), Saronida, Varkiza and so on.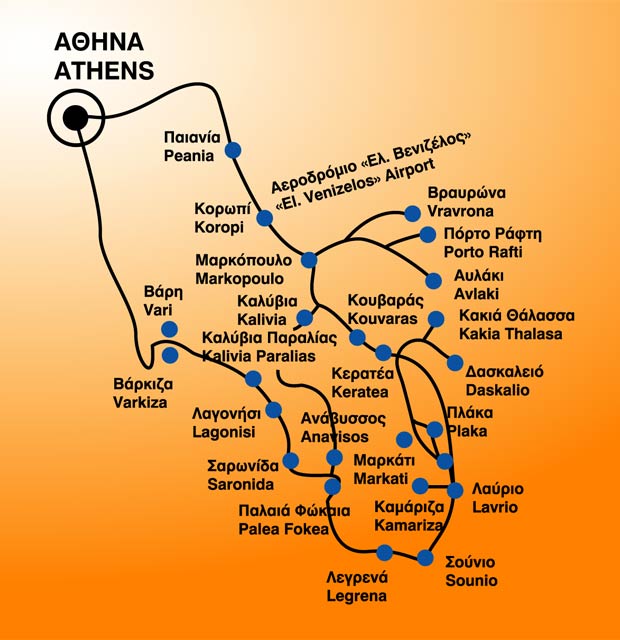 Bus Itineraries - East Attica
Below are the routes followed by the KTEL buses of east Attica. Starting from Athens these buses pass by Loutsa, a seaside resort, the airport of Athens, El. Venizelos, Rafina (port), Marathonas, Nea Makri, Shinias (with a great organized beach) and so on.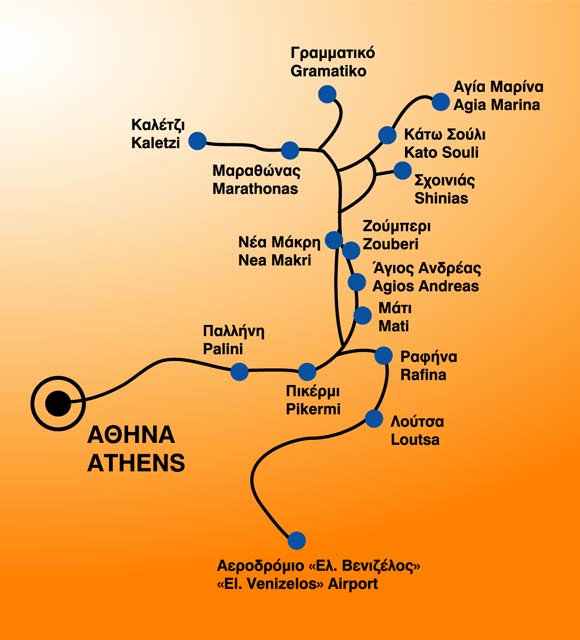 Bus Itineraries - West Attica
The following map gives you an overview of the routes followed by the buses of western Attica starting from Athens and heading towards Aspropirgos, Elefsina, Megara, Alepohori, Inoi, Porto Germeno and more locations.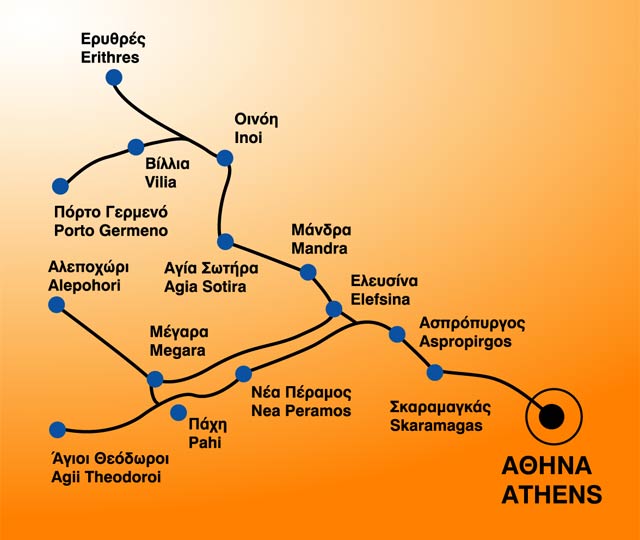 Bus Itineraries - General Map
If you want to have a general overview of all the destinations towards which the KTEL buses of Athens head, it would be a good idea to take a look at this map which is a combination of all four maps presented to you above.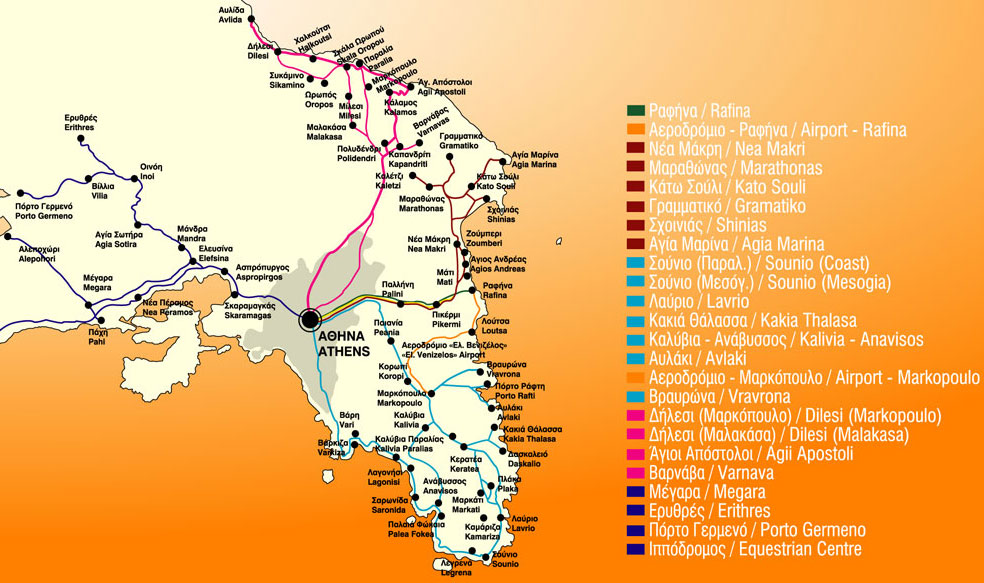 Contact
For more information on the destinations and ticket prices contact:
KTEL Attikis S. A.
Address: 68 Patision and 2 Kotsika street
104 34 Athens
Telephone no. (+30) 210 8808000 (30 lines)
Fax no. (+30) 210 8227378