Santowines Winery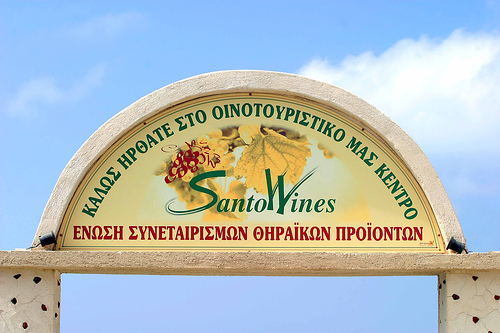 Santorini's Winery Union, SantoWines was founded in 1947 in order to protect the financial interests of the producers of local products. It is the biggest wine producing company on the island of Santorini and 100% of Santorini's wine producers are registered members of the union while 1000 are actual active members. The offices and winery of SantoWines are based in Santorini, in Pyrgos, which is a traditional village although there is also a branch in Athens as well.
Following the local as well as the international market demands SantoWines gets modernized and sets a new strategy. The construction of the new winery, the investments in new machinery and new, specialized, scientific human resources gave a boost to its development and its successful course inside and outside Greece.
The main concern of the Wine Producing Department of SantoWines is the continuous amelioration of wine quality in respect with the 3500 year-old wine-making tradition of the island. OPAP Wines of SantoWines are internationally acknowledged and they have been given awards in many international wine contests.
KAMENI

DRY RED WINE

Bright red color with fruity aromas and a sense of vanilla touch. Its acidity matches perfectly with its strong and restless taste FOOD AND WINE: Kameni accompanies perfectly strong taste cheese, game or red meat with spicy tomato sauce

Vintage : 2006
ATHIRI

DRY WHITE WINE

SantoWines is always seeking in promoting the indigenous varieties of Santorini. We believe that these varieties give extraordinary wines with special characteristics and exceptional tastes. We vinificated ATHIRI variety with care. The result gave us this varietal wine with golden-white color and special aromas of citrus fruits, lemon flowers and jasmine. FOOD AND WINE : Its soft taste matches perfectly sea food and white meat dishes

Vintage : 2006
AIDANI ASSYRTICO

DRY WHITE WINE

We chose AIDANI variety, which for centuries has been surviving on the volcanic earth of Santorini. We vinificated AIDANI with ASSYRTICO grape variety and we offer this fine wine to the modern wine lovers who are seeking for an alternative taste from Santorini vineyard. The 2006 vintage has offered a golden - white precious wine with the aromas of herbs and small white flowers. FOOD AND WINE : Its taste is full and tender and is perfectly combined with soft taste seafood.

Vintage : 2006
MAVROTRAGANO

DRY RED WINE

The vinification of the ancient local MAGROTRAGANO variety, once again has fulfilled our expectations. MAVROTRAGANO grape variety is cultivated in small quantities; however, the cultivation is based on high standards with great care. This varietal wine has aggressive taste, with the aromas of spices and tobacco. FOOD AND WINE : It is perfectly combined with intense taste meat dishes

Vintage : 2006
VOUDOMATO

DRY RED WINE

The vinification of the ancient VOUDOMATO variety is one unique proposal for the modern wine lover. The classical red vinification technique that was applied along with special care for this rare indigenous variety, has accomplished to highlight the special characteristics of this precious grape varietyIt has a roubin color, discrete aroma of flowers bouquet FOOD AND WINE : Its soft taste matches perfectly at 18 C with strong cheese and light meat dishes

Vintage : 2006
SANTORINI VINSANTO NATURALLY SWEET WINE FROM SUN DRIED GRAPES APPELLATION OF ORIGIN SANTORINI OF HIGH QUALITY

The grapes are sun dried for 8 -10 days. Slow fermentation for2 - 3 months. Aging for at least 24 months in oak barrels AGING: 24 months in oak barrels CHARACTERISTICS: Amber color with tones of chestnut brown. It has an unusual aroma and an unfamiliar bouquet, where the aromas of aging are dominant. The combination of spices, honey, raisins and lemon flowers are also present. Its intense sweet taste is in equilibrium with its acidity. This round, velvet wine has a rich taste which tricks the mouth between honey and lemon. FOOD AND WINE: Enjoy it as a dessert wine or accompany it with fresh fruit and light desserts
SANTORINI VINSANTO VIN DE LIQUEUR APPELLATION OF ORIGIN SANTORINI OF HIGH QUALITY

the grapes are sun dried for 8 -10 days. The natural fermentation follows and before aging the alcoholic title is being fortified and reaches up to 15 degrees AGING: 24 months in oak barrels CHARACTERISTICS: It is a wine with an unfamiliar bouquet, a combination of spices, honey, raisins and maturity aromas. With a rich and velvety nature, the intensely sweet taste plays joyfully with the acidity of the grape varieties and alcoholic volume FOOD AND WINE: As a dessert wine accompanies perfectly fruit and fresh desserts
Back to Santorini Wines Wineries