Antoniou Winery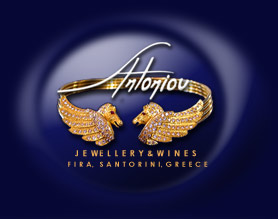 "From the land of the vineyards and the volcano"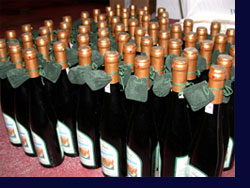 Within the natural beauty of this attractive island, once called Kallisti, businessman, Kostas Antoniou, revives today a 3,500-year-old Cycladic wine tradition in Megalochori at Santorini. Following the footsteps of Kyr-Giorgi Venetsanou, a chemist since 1930, who established the first winery in Greece, Kostas Antoniou decoded to give life to this land overlooking the Aegean, the sea praised by Greek poet, Elytis. He created new spaces for the production and aging of wines, a hall for artistic events and concerts, a traditional Greek coffee shop offering tastes from old times, and a lounge for exhibitions of jewelry and wine tasting.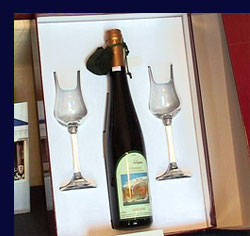 And so, the unique groin-vats on the roofs, the five different levels of vinification, the undermined natural fermentation vats, the cool cellars below ground, the old Radiki made of copper, the stone chimney always prominently marking the way, and the serpentine stairway leading to the wine cellars, all contribute to the revival of unforgettable moments of the past.
"Antoniou Santorini"
This fruity pleasant tasting wine is produced by the excellent Aegean varieties. Asyrtico, Aidani, Athiri, which grow on the hillsides of Karteradou, Emporiou and Akrotiriou on Santorini Island. With an aroma of citrus fruits, a full-bodied taste and lemony flavor, the wine "Santorini Antoniou" harmoniously accompanies, at 9o C, all seafood dishes.
"Antoniou Vinsanto"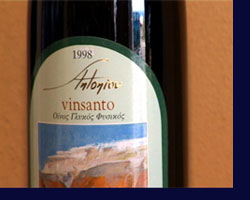 From the aromatic Aidani and the full-bodied Athiri, which were "lying sluggishly" on the volcanic soil for 15 whole days, came the sun-dried "Vinsanto Antoniou". This wine represents the continuation of a long term aging, while, at 5o C, it accompanies all kinds of fruits at the end of meals.
"Antoniou Santorini Barrel"
Kostas Antoniou suggests at authentic nychteri wine "Santorini Barrel", fermented in new oaken barrels from the area of Allier in France. Its eight month period stay in these "gentile" slits. Consummates its intense fruity character, by adding a spicy tinge to its discreet vanilla aroma. The rich, plethoric and full-bodied taste satisfies the demanding clients by offering a cooling freshness to all spicy dishes and smoked cheeses.
E-mail: antoniouk@otenet.gr
Back to Santorini Wines Wineries